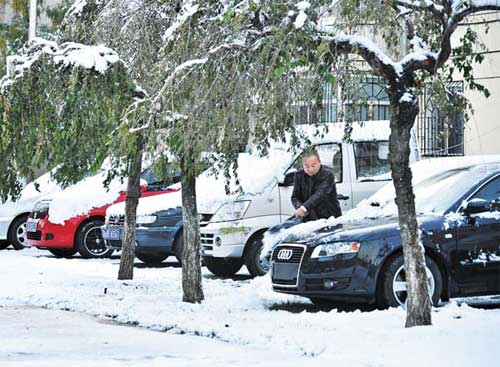 Over the next 10 days, the temperature in eastern Inner Mongolia and Northeast China will be 1 C lower than the average for this time of year, the NMC said.
Winter will further descend on Northeast China with a cold snap and heavy snow over the weekend.
According to meteorologists, winter has arrived when the daily temperature in an area remains below 10 C for five consecutive days.
At 4 pm on Sunday, the temperature in Harbin, capital of Heilongjiang province, was only 2 C and the temperature in Changchun, capital of Jilin province, was 3.6 C, according to the NMC.
On Saturday, Harbin and Daqing cities in Heilongjiang received their first snowfalls of the year, according to local weather bureaus.
Zhang Lei, a 27-year-old resident of Daqing, said Daqing was pelted by sleet and snow. "Many tree branches fell to the ground. I could hear it from my bedroom.
"The terrible weather started in the wee hours of Saturday," Zhang said. "The snow piled up everywhere, hampering drivers. I was delayed while traveling to a friend's wedding party."
Although she was unable to recall when Daqing usually receives its first snow of the year, the latest one struck her as being heavy.
An official of the local weather bureau in Zhaozhou county of Daqing, surnamed Li, told China Daily that the bad weather had been forecast and there was "nothing abnormal".
A meteorologist with the Heilongjiang's provincial weather bureau told Xinhua News Agency on Saturday that mid-October is typically when cities in the province receive their first snow of the year.
By Qiu Bo (China Daily)