Let's see,yesterday I watched an interesting show aired on Fuji TV.I loved it,although,my blood type is B,I started to doubt if I am not a weird mix between B,O and AB.
However,here a little information about that variety/show.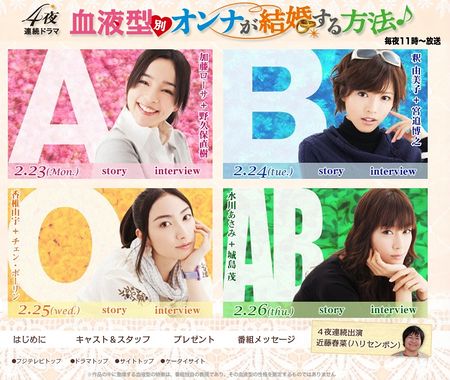 # TV Movie:
Ketsuekigata-betsu Onna ga Kekkon suru Houhou
# Romaji:
Ketsuekigata-betsu Onna ga Kekkon suru Hoho
# Japanese:
血液型別オンナが結婚する方法♪
# Director:
Hiroki Hayama (ep.1,2), Genta Sato (ep.3), Junichi Tsuzuki (ep.4)
# Writer:
Rika Nezu (ep.1,2), Sumino Kawashima (ep.3,4)
# Network:
Fuji TV
# Episodes:
4
# Release Date:
February 23-26, 2009
# Runtime:
23:00-23:45
# Language:
Japanese
# Country:
Japan
Plot
"Ketsuekigata-betsu Onna ga Kekkon suru Houhou" is a 4 part special, each episode dealing with a woman of a different blood type.
Episode 1 (A-type) - Rosa Kato plays an A-type woman, and Naoki Okubo plays an O-type man. They fall in love at their workplace.
Episode 2 (B-type) - Yumiko Shaku plays a a popular scriptwriter with B-type blood who has an affair with TV props man Hiroyuki Miyasaku, who's an AB.
Episode 3 (O-type) - Yu Kashii plays a furniture store clerk with O-type blood who has to take care of a visiting designer from Taiwan with A-type blood played by Wilson Chen.
Episode 4 (AB-type) - Asami Mizukawa plays an engineering student with AB-type blood who gets a lesson in love from associate professor Shigeru Joshima.
Source:
Wiki